Picture frame your views
with
Sliding Aluminium Patio Doors
High performance complemented by stunning design,
adding a modern and stylish look to your home
Which Sliding Patio Door suits your home better?
We offer two different types of Aluminium Sliding Patio Doors and manufactured on our dedicated production line at our Rhino Aluminium Factory in Broadstairs Kent. The standard Inline Patio Door system offers fantastic value for money whilst maintaining the high quality finish that you are looking for.
The alternative option is the high performance 'Lift and Slide' which is a premium patio sliding door system able to accommodate much larger and heavier glass units, allowing you to achieve a wall of glass effect.
Rhino Aluminium Lift & Slide Patio Doors
Let the light into your home with high performance aluminium sliding doors the Rhino Aluminium range of inline or lift and slide premium aluminium doors offers high performance complemented by stunning design, adding a modern and stylish look to your home, opening your living space to the outside. Combining unique system design with a range of configurations, they will enhance your home whilst keeping the weather at bay.
narrow profile with single, double or triple track options
single of dual colour options in wide range of colours
Complete range of handles, accessories and security features
3m high x over 3m wide panels
smooth operation through stainless steel rollers
lift and slide for large opening elements
Floor to ceiling height sliding panels
Can easily be combined with all Rhino Aluminium window and door systems
Aluminium Inline Patio Doors
Patio doors minimal frame design to maximise glazing our range of patio doors offers an ideal and inexpensive solution for your home, with minimal frame design to let the maximum amount of light flood in. Built to the highest standards, our patio door range combines flexibility with design and security to ensure your comfort and
peace of mind.
narrowest frame design – only 70mm – ideal for replacement of old doors
two pane sliding door or window
Full range of complementary handles and security features
Robust and reliable sliding and locking mechanism
single or dual colour options in a wide range of colours
multi-point locking
Can easily be combined with all aluK window and door systems
Supply Only to Trade Customers
Rhino Aluminium are proud to manufacture the highest quality Aluminium Bi-Folding doors in the industry for the UK Trade.
We are delighted to offer products on a Supply-only basis, and in fact Trade Customers represent the majority of our orders. We work extremely hard to ensure that our trade customers have their orders delivered on time at the lowest price per panel on the market.
Why not give us a call to discuss how we can help your Trade Business?
Secure By Design System
Our Aluminium Bifolding doors have gone through and passed the Official Police Security Initiative referred to by the industry as Secure by Design (SBD). This certification is given to systems which meet and exceed the level of security required by the OPSI (the official UK Police flagship initiative). The purpose of SBD is to ensure that UK homes fitted with products that meet this standard are more secure and reduce the risk of burglary.
Connecting Domestic Customers with Local Installers
We can connect domestic customers with a local approved installer, providing the best service as well as a huge cost saving. Rhino have a network of installation companies that have already been approved by us, each of these installers have proven they are able to carry out the installation of our products using the methods we insist on. The end customer is able to purchase the products at a great manufacturers price, then pay the installer directly for the fit. This option means the customer still receives the full manufactures guarantee as well as the full FENSA registration guarantee for the installation. On average this option save the customer around 25% on their installed Bifold Doors.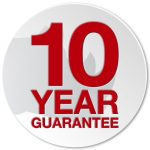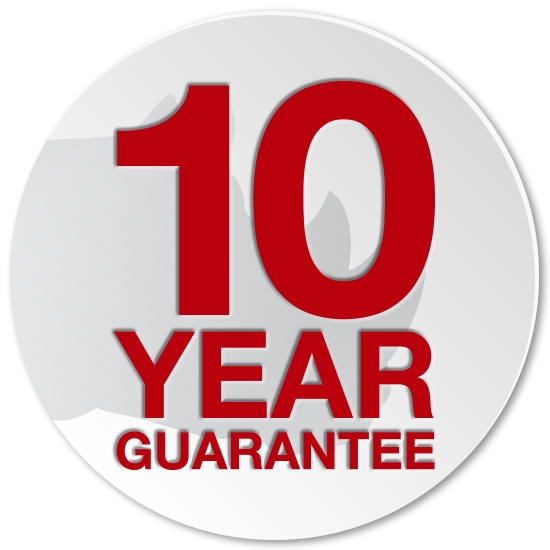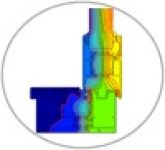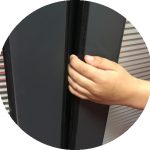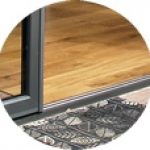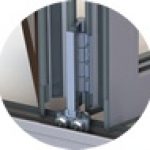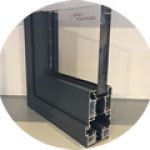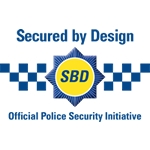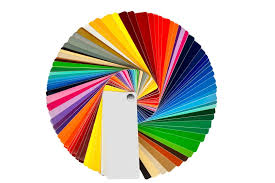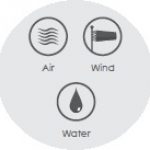 Which Finish would you choose?
Your RAL Colour options…
Please use this guide for our range of RAL colours available, although please note that colours viewed on the web do not always represent the finished tone or shade of that colour.
Our Standard colours
which have no additional colour charge

include:
Grey RAL 7016 (

Anthracite grey)

White RAL 9910 High Gloss

Black RAL 9011 Satin


If you require an other of the 5000 RAL colours available then there is a £240 colour supplement.
If you require a dual colour (Black outside White inside for example) then there is an additional £480 across the order.
Aluminium Sliding Door Configuration
Picture frame your views with our Aluminium Sliding Doors systems. This configuration shows the method of slide and opening space provided by our doors which will slide effortlessly from the first time you use them.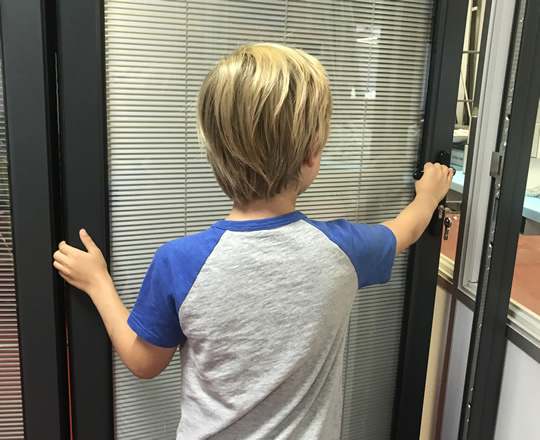 Safety Built In…
Our Doors are Designed and Built with Outstanding Safety Features.
We believe that nothing is more important than safety and comfort in your own home, especially when there are children around, you need to know that they are safe in their own environment. This is why Rhino Bifolding Doors come with special safety features to keep the whole family safe. Our Safety System include double finger safe gaskets to prevent finger trapping, easy access disabled threshold option and strong magnets to hold the doors in open to prevent them from slamming in the wind.
Effortless Operation
Smooth gliding Patio Sliding Doors
Our doors are fitted with high quality hardware and run on four wheel bogie assemblies that travel on twin stainless steel tracks. The bogie wheel assemblies have a dedicated guide that provides improved stability, resulting in easy graceful operation for years to come.
It's so easy to bring the outside into your home by simply sliding these doors with a gentle push, transforming your living environment and removing the secure barrier between your inner and outside space.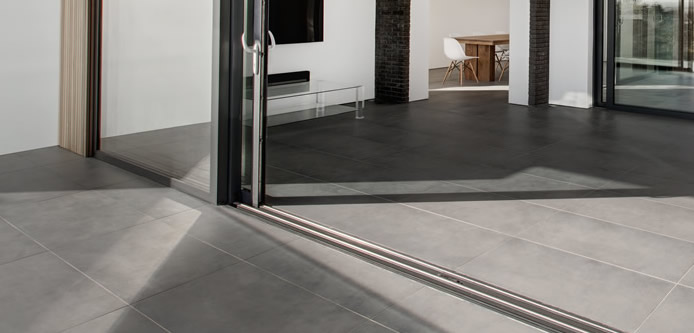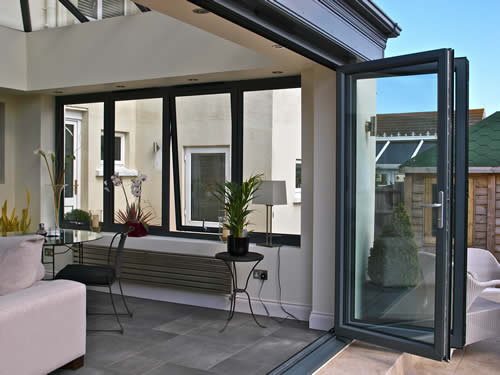 Rhino Bi-Fold Doors
The perfect solution, designed to fit…
Rhino doors can be manufactured to replace entire walls to maximise your opening space. Available in a range of styles and designs, panels can be stacked inside or outside of the room, to the left, right or split to stack both sides. Choose your exact requirements for your folding sliding doors to create beautiful panoramic views and a relaxed ambient living environment.
Feel free to contact our in-house design team now who will be happy to discuss your exact requirements for you made to measure bespoke bifold.Contact Rhino
A Splash of Colour……
An unlimited choice of colour that's all yours.
Rhino Aluminium windows and doors are available in a multitude of colours, from our standard range to the full RAL spectrum. Our profiles are powder coated with the highest quality powders, providing you with the peace of mind of a 25 year guarantee. The choice is yours; pick from one of our standard finishes or choose a bespoke finish from more than 500 colours as well as a different colour inside and out.
Standard colours – Anthracite grey RAL 7016 / White Hipca RAL 9910 / Black 9005 – are always available off the shelf at Rhino. Special colours (any other RAL colour) and Dual colour (white inner frame and grey outer frame for example) do carry a lead time of 5-6 weeks with an additional cost. Please contact the office to discuss this in detail.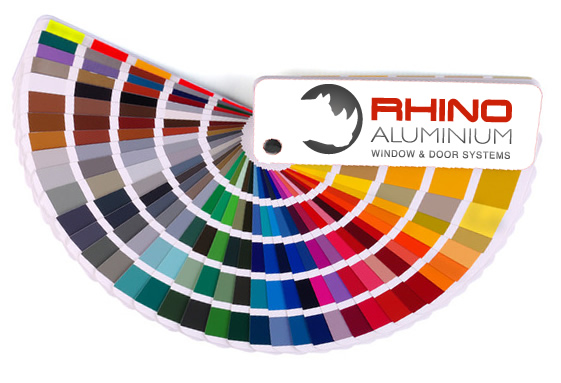 Low level threshold options
flow between your inside and outside living area
Bringing the outside in, our range of bi-folding doors allows you to open up your home to the outside whilst keeping the elements out. At Rhino Aluminium we specialise in designing and manufacturing a threshold which will not only provides you with the low level, minamilist & contemporary look that you want, but also provides your home with the essential weather rating that it needs.
We can of course provide you with other threhold options including our ultra low 22mm internal
use profile (not weather rated) as well as our low level 32mm thermally broken threshold (not weather rated).
These both provide an even level on both side of the bifold, although our recommendation
is always to allow us to optimise a standard threshold for your project,
please contact the office to discuss this in detail.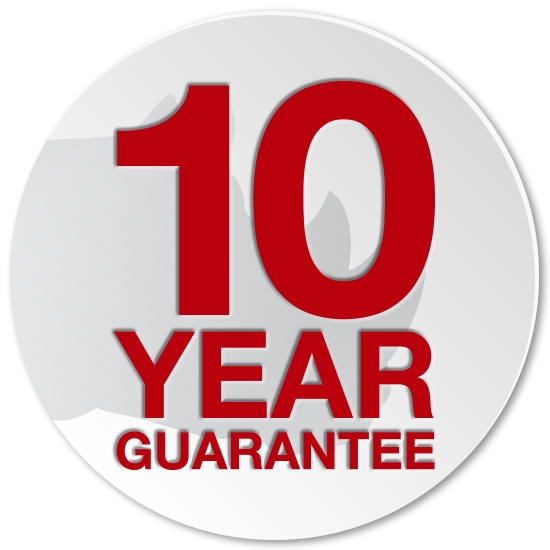 Total Peace of mind
Rhino Aluminium stand by their workmanship
Every Rhino Aluminium window and door product is hand crafted by experts in our dedicated UK aluminium factory, this ensures that the product you recieve will stand the test of time. Our products will function and operate in the same way today as they will long into the future, as well as sustain their elegant and beautiful appearance.
We are so confident about the level of quality that we manufacture, we are delighted to back our products with a no quibble 10 year Manufacturers Guarantee!
Looking for other Aluminium
Door Types?
Rhino Aluminium offer completely bespoke products, tailored to your size, colour scheme, finish and accessory requirements. The types of Doors that Rhino are able to manufacture include Bifold Doors, Sliding Doors, Patio Doors, Entrance Doors and our new Infinium Door System.