So why would you choose Aluminium Over UPVC?
When looking for the perfect upgrade for your home, aluminium windows and doors are a great choice. Enhancing and complementing the look of your home, you can add a touch of style, whilst also protecting your family from both the environment and unwelcome visitors. Aluminium windows and doors offer narrow profiles and slim sight lines that can make a real difference to the look of your property.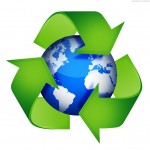 Aluminium is lightweight, strong and regarded as one of the most sustainable building materials available, being almost 100% recyclable. This inherent strength means that the security of your home is improved, there is no need to worry about warping or rust, and it is almost maintenance free.

You can also choose from a vast array of colours to suit your home, including a dual-colour option where the inside and outside colours can be different.
The most important benefits of using an Aluminium system:
        Extremely strong material which lasts!
        Low sight lines – a slimmer and neater design without the need for bulky profiles
        Resistance to atmospheric pollution
        Enhanced Security (Secure by Design) and excellent weather performance
        Thermally Efficient Profiles which prevent heat transfer from inside To out
        Rhino Bifolds are available in over 500 RAL Colours
        Very low maintenance
        Aluminium is a sustainable product which is delicate on the environment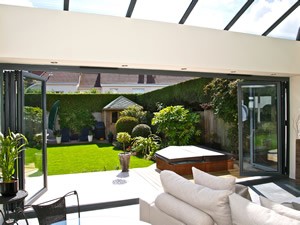 Folding Sliding doors help you to create an open, flexible and modern space for both living and working environments. These bi-folding doors give you more than a 90% opening, and use a uniquely designed pop-out T-handle that allows for very tight stacking panels. Low threshold options allow for flush floor levels and reduce the step over. Colour co-ordinate your doors with a huge range of colours and optional colour matched handles and hinges. These doors can come with Self Cleaning or Solar.
Control glass and integrated blinds can be added for privacy and style without the dusting!
Choose your exact requirements for your folding sliding doors to create beautiful panoramic views and a relaxed ambient living environment.
Available in a range of styles and designs, panels can be stacked inside or outside of the room, to the left, right or split to stack both sides.