Announcing the next generation of
Bifolding Door
The new Luminia F82 Bifolding door –
redefining bifold design
Announcing the next generation of
Bifolding Door
Rhino Aluminium are proud to announce the launch
of the new Luminia F82 Bifolding Door System.
The Luminia F82 bi-fold door has been designed with style and performance front of mind. It cleverly combines the intimacy of inside spaces with the freedom of outside living, without ever compromising on performance, safety or security. A contemporary, stylish bi-folding door with thinner sightlines and interlock of 122mm that provide larger glazing panels. It also offers heavy duty compact slim stainless steel rollers as standard allowing for a smoother movement when opening and closing. The re-design of the flush pop-out handle means that the form and function work in perfect harmony.
The F82 delivers an industry-best 1.3 U-value thermal performance for double glazed units and 0.9 U-value for triple glazed. Larger glazing panel size options of up to 3000mm provide complete project flexibility. As ever, we believe the highest levels of safety and security should be as standard, not an aspiration. It is why the F82 conforms to the latest British Standards and Building Regulations such as Document Q and L including PAS24. The F82 bi-fold is only available exclusively through the Aluk's Luminia Select Partner Network to most valued and trusted customers – of which Rhino Aluminium are proud to be part of.
Rhino Aluminium
Luminia F82 Bifolds
Design Features
Unique flush pop-out handle for ease of operation, no need for additional unsightly handles
Unique traffic door handle
Heavy duty compact rollers as standard
Both frame and cill sightlines of 97mm
122mm Slimline interlock
Low threshold
Larger glazing area
Options
Available in a range of opening configurations
Available in a range of single or dual colour and anodised finishes
All configurations available open in and open out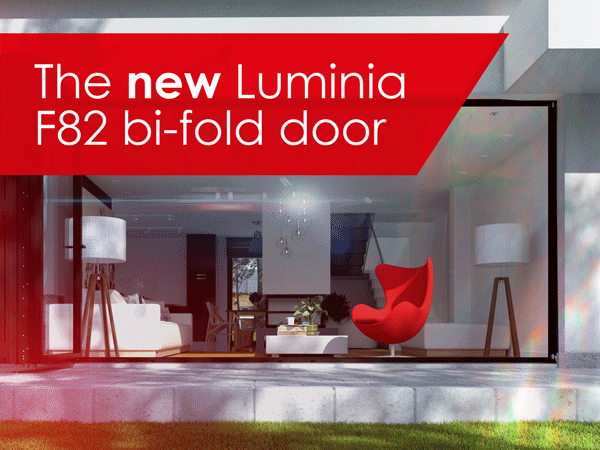 Supply Only Service
Rhino Aluminium are excited to announce that we are now a Luminia Select Partner of Aluk and can fabricate the F82 Bifolding Door system on a Supply Only basis. We work extremely hard to ensure that this system is delivered on time and right first time, so why not give us a call to discuss how we can help you with your project? Telephone: 01843 446679
Secure By Design System
Our Aluminium Bifold doors have gone through and passed the Official Police Security Initiative referred to by the industry as Secure by Design (SBD). This certification is given to systems which meet and exceed the level of security required by the OPSI (the official UK Police flagship initiative). The purpose of SBD is to ensure that UK homes fitted with products that meet this standard are more secure and reduce the risk of burglary.
Connecting Domestic Customers with local F82 Installers
We can connect customers with a local approved installer, providing the best service as well as a huge cost saving. Rhino have a network of installation companies that have already been approved by us, each of these installers have proven they are able to carry out the installation of our products using the methods we insist on. The end customer is able to purchase the products at a great manufacturers price, then pay the installer directly for the fit. This option means the customer still receives the full manufactures guarantee as well as the full FENSA registration guarantee for the installation. On average this option save the customer around 25% on their installed F82 Bifolding Doors.
Intelligently simple
The Luminia F82 Bifolding Door continues the innovation trend. The F82 Bifold helps us to speed up our fabrication time, which means a faster installation on your project. It boasts all-new contemporary flush hardware, while the new elegant slimmer symmetrical sightlines of the frame and panels provide larger glazing area than others on the market. Flooding the home with more natural light.
Designed and engineered to withstand all that the British weather can throw at it, from exceptional performance for Air, Wind and Water resistance. Our Patent Applied F82 bi-fold door has been designed to ensure the best performance and durability throughout it's life. It has unrivalled thermal performance of 1.3 W/m²K with a double glazed unit and 0.9 W/m2K with a triple glazed unit. Which help to reduce heating bills, while keeping the warmth in longer.
Aluminium F82 Bifold Door Visual Demonstration
Why did Rhino Aluminium take the F82 bifolding door system on as a new product? This video will demonstrate the unique strengths of the F82 Bifold, including the enhancements made to this market leading aluminium Bifolding Door. We are extremely proud to be an Aluk Select Partner and help bring this outstanding door to the market. In our opinion this product leaves all other Bifolding doors at a stand still.
How does the F82 compare?
You're probably wondering how the F82 Bifolding door compares against other bifolds on the market – including the rock solid original bifold that we still currently offer (the BSF70)? This comparison chart demostartes not only how superior the F82 is in the bifolding door market, it demonstrates just how big the gap is between our product alongside other bifolds currently avaiable from our competition. The top Red columns will show you the category that we are testing the F82 in, down the left you will see the name of the comparison system which includes our existing bifolding door. A Green result shows where the F82 wins, the Grey results are where it's an equal result and the Yellow results indicate where the other system wins (although please note the figures to by how much).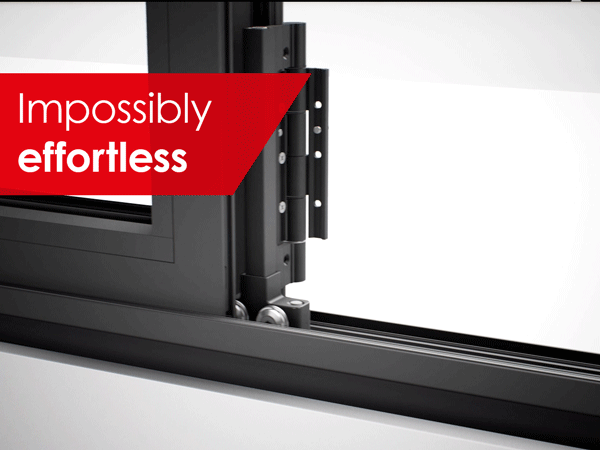 Impossibly effortless
Everything about the Luminia F82 has been developed with homeowner demands and ease of use front of mind. The system is designed with heavy duty slim stainless steel rollers as standard and also boasts a unique gearbox for smoother operation. While the all-new, unique flush pop-out T-handle provides ease of operation, removing the need for additional unsightly handles as well as delivering stand out design from the crowd.
For added security, the Luminia F82 features shootbolts top and bottom of the interlock along with a dedicated bottom bogey guide. For greater stability, there's also the double track threshold. And for extra safety, magnetic catches that hold the doors in place whilst being operated. As well as an anti-finger trap system, using gaskets, to prevent fingers getting trapped when the doors are closing.
Visibly different
We understand the desire for slimmer sightlines, which is why the Luminia F82 has been designed with reduced outer frame rebates that are symmetrical. Combined with a 122mm meeting style and a frame to glass sightline of 97mm the F82 boasts greater glazing areas flooding the room with more natural light than ever before.
We understand every project is different, which is why the Luminia F82 is available with panels up to 3000mm and weights of 150Kg. We also offer glazing add-ons and the option for both internal and external glazing.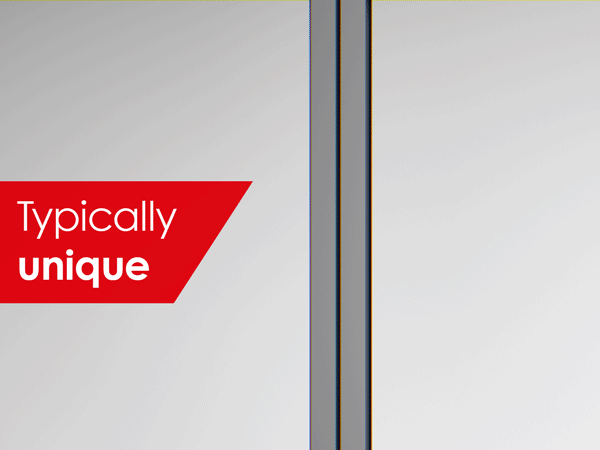 Beautifully organised
As with all AluK aluminium system, you'll find an extensive choice of configurations available to choose from. And as ever, all are available as open in and open out for added homeowner choice.
To ensure total peace of mind, the F82 has been put through its paces to ensure it conforms to all the latest British Standard and Building Regulations for thermal, security and safety including PAS24.
Many ways to stack the F82
The F82 bifolding door allows you to achieve the maximum opening width for the opening space that you have in your property. A 5-panel bifold can be stacked in many ways and will suit all weather conditions, whether it's peak summer or more inclement, the F82 will provide you with the perfect solution to allow you to enjoy your inside and outside space. As will all of our bifold doors, the traffic door is an extremely handy feature which allows you to 'nip' in and out without opening the entire bifolding door.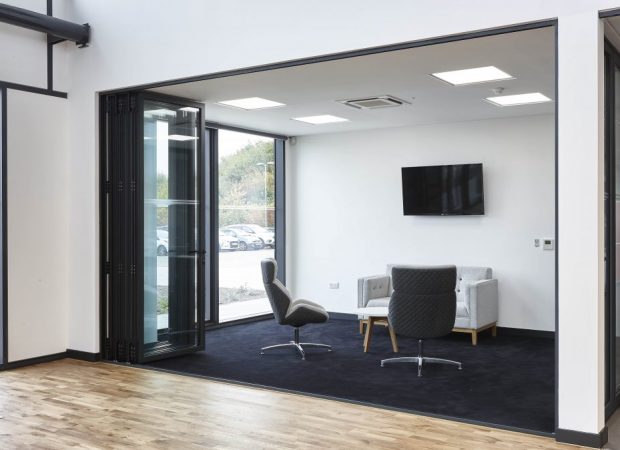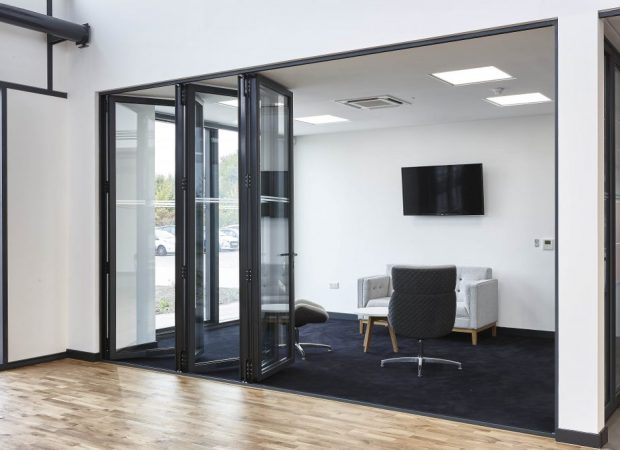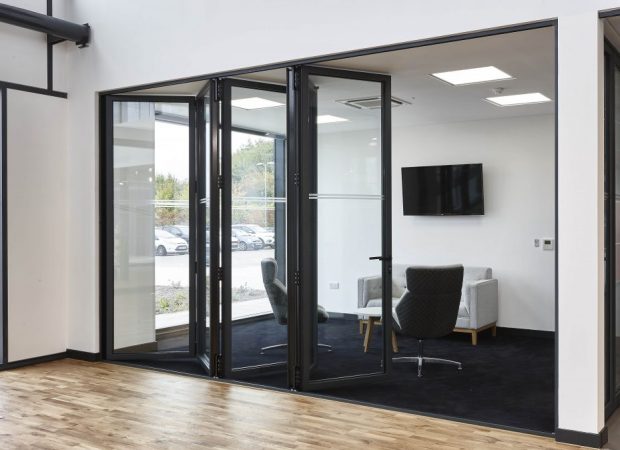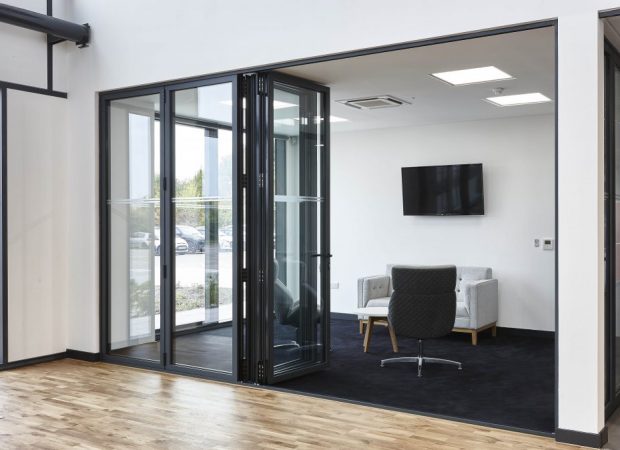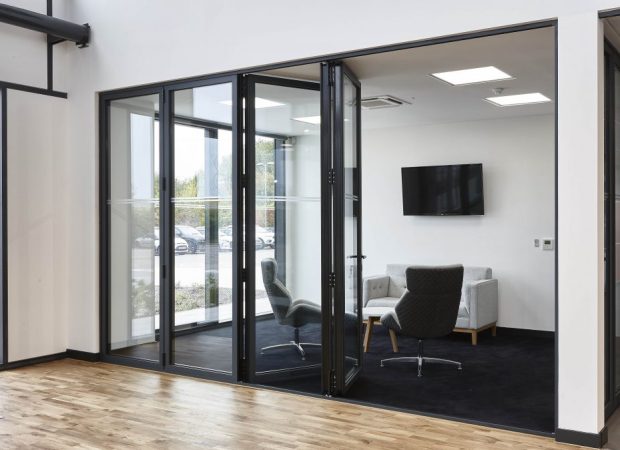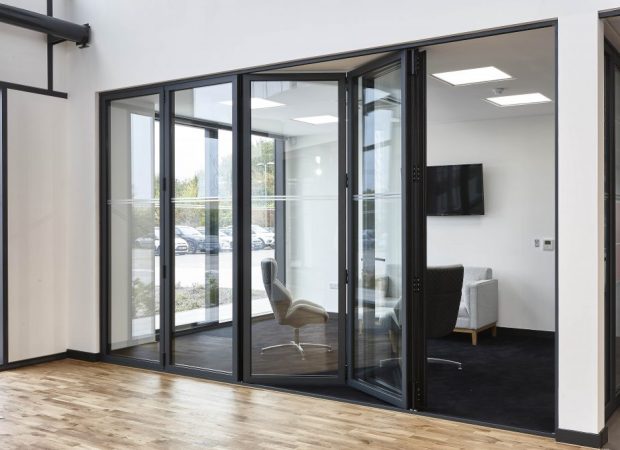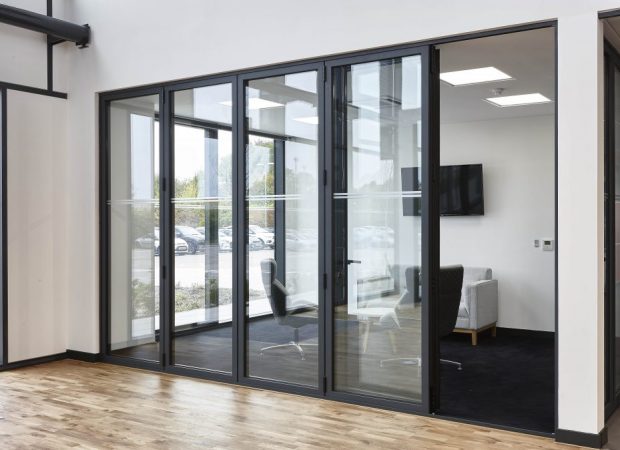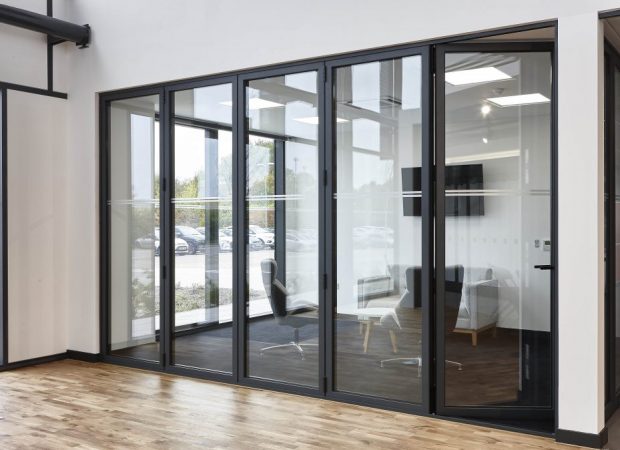 What's New with the F82
Unique flush pop-out handle for ease of operation, no need for additional unsightly handles
Unique traffic door handle
Heavy duty compact rollers as standard
Both frame and cill sightlines of 97mm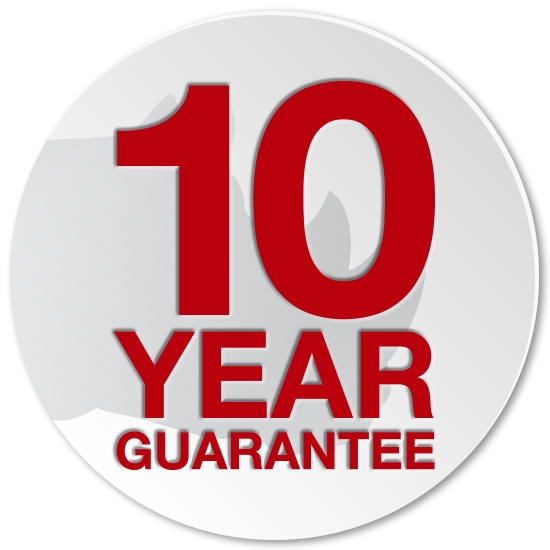 Total Peace of mind
Rhino Aluminium stand by their workmanship
Every Rhino Aluminium window and door product is hand crafted by experts in our dedicated UK aluminium factory, this ensures that the product you recieve will stand the test of time. Our products will function and operate in the same way today as they will long into the future, as well as sustain their elegant and beautiful appearance.
We are so confident about the level of quality that we manufacture, we are delighted to back our products with a no quibble 10 year Manufacturers Guarantee!
A Splash of Colour……
An unlimited choice of colour that's all yours.
Rhino Aluminium windows and doors are available in a multitude of colours, from our standard range to the full RAL spectrum. Our profiles are powder coated with the highest quality powders, providing you with the peace of mind of a 25 year guarantee. The choice is yours; pick from one of our standard finishes or choose a bespoke finish from more than 500 colours as well as a different colour inside and out.
Standard colours – Anthracite grey RAL 7016 / White Hipca RAL 9910 / Black 9005 – are always available off the shelf at Rhino. Special colours (any other RAL colour) and Dual colour (white inner frame and grey outer frame for example) do carry a lead time of 5-6 weeks with an additional cost. Please contact the office to discuss this in detail.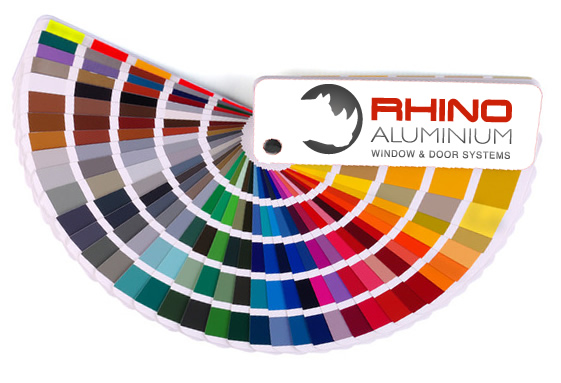 Looking for other Aluminium
Door Types?
Rhino Aluminium offer completely bespoke products, tailored to your size, colour scheme, finish and accessory requirements. The types of Doors that Rhino are able to manufacture include Bifold Doors, Sliding Doors, Patio Doors, Entrance Doors and our new Infinium Door System.